Home
About us
HK intro
Easy Walk
River
Hiking
Coastine
Caving
Overseas
Gallery
Join us
Hiking tips
Other sites
Publicity
Contact us
Outdoor Doctor
FaceBook Group
Order FREE HK Travel Brochure!
Visitors
since April 2000
Wong Tong Stream (¶À´Å¥Û¼î)
Difficulty:
Last Visit: 5 Aug 2007
NT West

Trip Description
Wong Tong Stream (¶À´Å¥Û¼î) is located in the downstream of Wong Nai Tun Reservoir in Tai Lam Country Park. This stream is rather short and is quite open, you don't have to dash around inside bushes. Pools? Yes, but ... the water is quite murky due to the sandy nature of the surrounding environment. You can also find attractive waterfalls. If you are not experienced stream hikers, please use the hillside track to by-pass the waterfalls.

After reaching Wong Nai Tun Reservoir, some people will properly continue the journey of Jiu Huang Stream (¤E¶À¥Û¼î) .
Location 1: Altitude 55M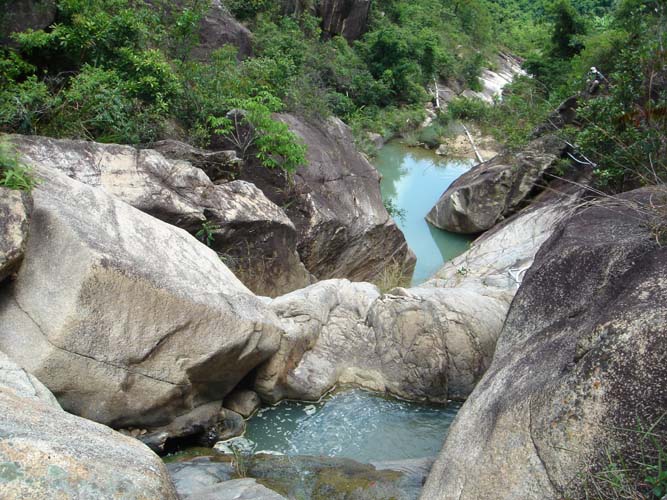 Many small pools there, but water is aka murky.
Location 2: Altitude 65M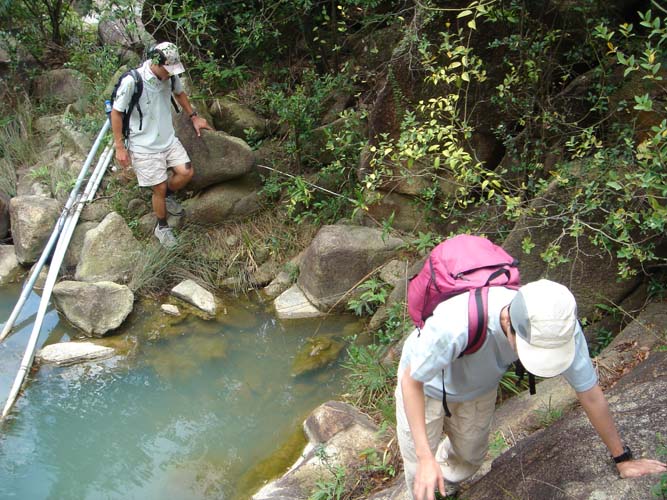 Go! Go! Go!
Location 3: Altitude 70M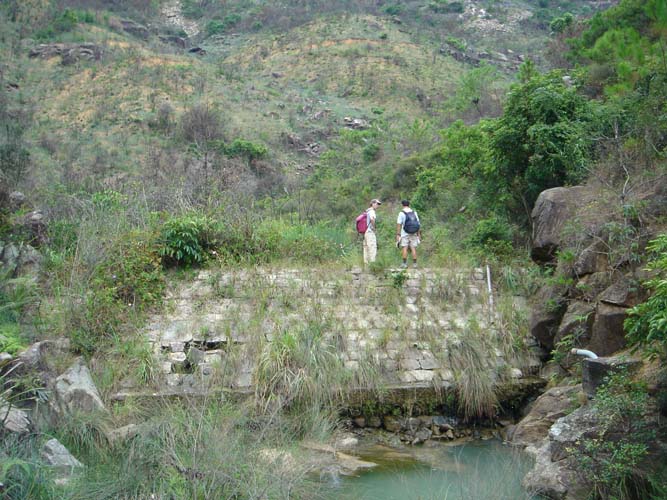 There is a dam.
Location 4: Altitude 80M
Here comes the funny part. There are two consecutive waterfalls. The first one is easy to deal with. Gei is dealing with the second one in the video below. It takes some skill. Actually, you don't need to follow Gei approach, you are recommended to make use of the hillside on the right of the waterfalls. Right hillside can also help you to overcome the next waterfall as well.
Location 5: Altitude 95M
Beyond the two falls is a water pool but, again, it is murky. The rocky crack in front is really something. If you'd taken the right hillside for the previous waterfalls, you don't even need to border with this rocky crack.