Trip Description
This stream is not very difficult if you don't mind to get your feet wet. For dry-feeter like us, this stream demand quite a bit of skill and energy. Moreover everything below the biggest cliff (shown in the picture) is buried by a jungle of bush. We have to move inside a compact network of spider web and branches. It was not a very enjoyable experience.
Location 1: Altitude 5M
Entering the walk way on the right of the stream.
Location 2: Altitude 30M
We reached the stream. Everything looks good. BTW, it took a bit of searching to get to here. The concrete walk way has no obvious connection to the stream at this height.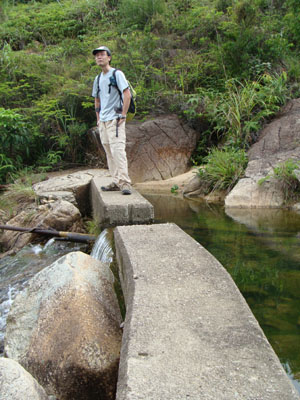 Location 3: Altitude 40M
This is a small but reasonably deep pool, maybe good for bathing.
Location 4: Altitude 50M
Another typical stream view. At 60M, you will meet a junction, take left. From 55M to 165M, the stream is narrow and is embraced by stubborn bushes and spider webs. We have to crouch while moving along the stream, not a very funny thing to do. If you don't mind to let you feet wet, it would be easier.
Location 5: Altitude 165M
| | |
| --- | --- |
| | |
| This is the only and the biggest cliff/waterfall of the stream. The pool under the waterfall is rather small. We took the rock crack on the right of the cliff to climb upwards. The climb is steep and fun. | |
Location 6: Altitude 200M
| | |
| --- | --- |
| After overcoming the cliff, the path seems lead you away from the stream into deep bushes. When you encounter too many damn bushes, you should look for way on the your left to cut back to the cliff top. If you find the right spot, you only have to move about 10M to get back to the cliff top. | |
| On the cliff top, sky open up again. What a good feeling. The stream is now flatening off. Just move ahead until you meet the hiking path. We left the stream a bit early on the right, it might not a wise choice, we struggled through a lot of bushes before getting to the hiking path. | |