Trip Description
Silver Mine Waterfalls is a nice place near Mui Wo in Lantau Island. We started our journey from Mui Wo Ferry Pier.

We walked along the hiking path to the pavilion in Waterfall Park. The Lower Silver Mine Falls was situated there. This waterfall is split into two branches.
Location 1:
Lower Silver Mine Falls
After taking a rest, we left the Lower Silver Mine Falls and trekked along the hiking path on the left handed side to Wo Tin. Looking at the distant Mong To Au , we found a big stream . We went into this nice and easy stream. Very soon , we encountered another impressive great waterfall- the Pearl Falls.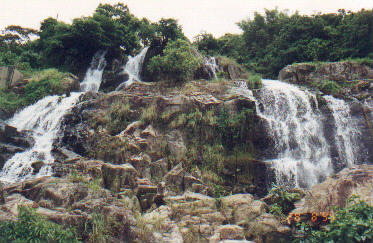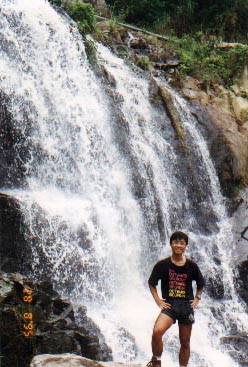 Location 2:
The Pearl Falls (珍珠瀑)
After climbing up the Pearl Falls on the left handed side, the Silver Mine Main Falls appeared immediately in front of our eyes. It is as high as 70 feet. The Falls was great with abundant water flowing down.
Location 3:
Silvermine Main Falls
Trekking up more, we saw another small falls with a pool big enough for you to have a swim there.
Eugene, Man and Tobby standing next to the falls Higher up was a small dam made up of old rocks. We found a hiking path on the right-handed side of this dam to leave.
"This route is not very difficult. It is worthwhile to go there where you can see so many falls in 3 hrs!"