Trip Description
This is definitely a very impressive stream in our mind. It is situated in the north-west part of Castle Peak which is in North-western New Territory(HQ028806). After you arrive the lower portion of the mainstream namely Tai Shui Hang, you should find a way to get into it.
Location 1:
You will pass a corrupted dam, before reaching the Pool of Lying Dragon (臥龍潭) which is one of the highlight of the stream . This pool is situated at an altitude of about 160m , just before the mainstream branching into two. It is a big swimming pool with crystal water . Don't miss it!
Location 2:
Have you ever tried water massage? We (Anthony, Lawman and Eugene) did experience it in Qing Dai Stream.
Location 3:
After enjoying the water bathing, we went upwards and chose the left sided branch of the mainstream (Refer to map ). We met a waterfall, with a flat area of sand near the bottom of it.
Location 4:
About 45 minutes later, we saw another highlight of the stream at a distance. That is the Four consecutive Pools and Falls (四疊潭)in a valley. Prepared to swim again.
Location 5:
The first waterfall is about 10 feet high. Go along the right hand side of the pool in order to get upwards. It is easy. You may notice two persons in the following photo. They are Anthony and Lawman.
Location 6:
The second waterfall is the Main Fall because it is the highest (about 40 feet). The pool in front is also the biggest and deepest one. We hurried to take off all our clothes and jump into the pool immediately. Fantastic! We did spend some time to enjoy ourselves there.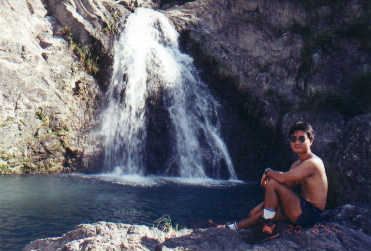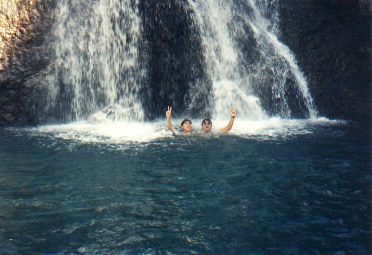 Location 7:
We Climbed up the right handed side of the Main Fall.
Location 8:
Afterwards, we met the third fall. It is not very attractive. But the fall is quite high . The way to climb up is on the right side. One has to face a big gap while climbing, and use his energy and courage to go across this gap and climb up the stiff face- not easy for some persons.
Location 9:
The fourth waterfall signified the end of the stream trip.

Afterwards, you may wish to find the hiking path and go to Leung King Estate to leave.

N.B. We went to Tsing Tai Stream in 1995. The air at that time was excellent and the water was very clear. However, in the past few years, there has been some construction projects over that region. It exerted some negative impacts on the environment there. The stream nowadays may not be as good as before. But it is still a stream to be highly recommended.