Home
About us
HK intro
Easy Walk
River
Hiking
Coastine
Caving
Overseas
Gallery
Join us
Hiking tips
Other sites
Publicity
Contact us
Outdoor Doctor
FaceBook Group
Order FREE HK Travel Brochure!
Visitors
since April 2000
Kangaroo Island , Australia
Difficulty: NA
Last Visit: Dec 2001

Trip Description
Kangaroo Island is the 3rd Largest Island (155km long by up to 55km wide) of Australia. It can be accessed by car ferry from Cape Jervis (arriving at Penneshaw), passenger ferry from Adelaide (arriving at Kingscote) or by air from Adelaide Airport. Tourist attractions here are abundant from the standard sightseeing to fishing, bird watching and bushwalking. Public transport is restricted to a taxi service but cars and bicycles can be hired. The temperate climate and unpolluted environment is responsible for the blossoming industries of freshly produced local food such as seafood, dairy products, fruit and honey.
More than thirty percent of Kangaroo Island is covered by national parks and conservation area to ensure the unspoiled scenary and wildlife can remain. At least 2 days are required to visit most of the major attractions on the island and it could be more if you choose to do more leisure walking. Unfortunately, the fire in 2002 has put a small dent into the natural scenary at least for now.
The southern coastline, the scene of many shipwrecks, is rugged and dramatic. In order to access many of the scenic spots, a vehicle with 4WD capability is recommended although it is not essential depending on the weather condition.

Standing near the Cape Borda lighthouse allow you to see out west to the Southern Ocean, the feeding ground of many Great White Sharks and seals.
Both Admiral Arch and the Remarkable Rocks are located in the south west tip of the island. The Admiral Arch is a natural paradise and breeding ground for many seabirds as it lies just off the island itself. The Remarkable Rocks are just another reminder what kind of wonderful natural sculpture can be created.
A visit to the island will not be complete without seeing the lazy seals at Seal Bay. Due to many years of man hunting, Seal Bay is now the only major colony accessible by visitor on foot in Australia. Other colonies such as those around Bruny Island in Tasmania and Philip Island in Victoria can only be visited by boat. It is really a wonderful experience to stay so close to these lovely animals when they are just renewing their furs for 3 days on the beach after hunting in the sea for 3 days straight.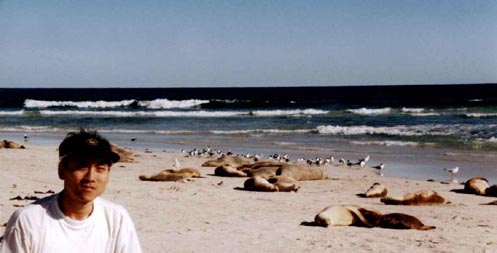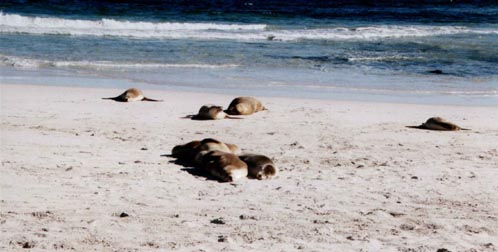 You have to catch a ferry (15min ride) from Kettering in order to go to Bruny island. For food lover, the island offer a lot of seafood but it also offer forest walk as well as numerous rock formations which can be seen via cruises or walking. This just give you an example of what seems to be a seal popping out of water is indeed just a rock formation on the southern tip of the island near the Cape Bruny light house