Trip Description
Huashan (華山) is one of the most famous mountains in China. Many Tao practitioners lives in Huashan to pursue higher level of Tao. Many Chinese legends/stories evolve around this iconic Tao mountain. Huashan is now become a very popular tourist place. At the time of this writing, the entrance fee per head is RMB100. Optional insurrance fee of RMB5, optional mini van transportation of RMB10 . The mini van goes back and forth between the cable car station and the tourist centre. The cable car, which is also optional, costs RMB60 for one-way.
Getting there is quite convenient. You just have to take a taxi from Huashan train station. It will cost around RMB20 for a 20 minutes ride.
There are some places for tourists to stay overnight in the mountain, but the availability is very limited. So, we'd decided to stay in a local hotel at the heel of Huashan near the East Gate (東山門).
To really enjoy Huashan, it will take you at least one full day, may be two. However, we had a very tight schedule, so we could not afford a complete Huashan tour. We had to take cable car up and down to save time. If you have more time, it is recommended that you take cable car to go up and return by walking down to 玉泉院.
Location 1:
This is the tourist centre where you can buy entrance ticket. There are quite a number of inns around this area.
Location 2:
Cable car station. The cable car tour last for about 7 minutes bringing you to the North Peak (北峰).
Location 3: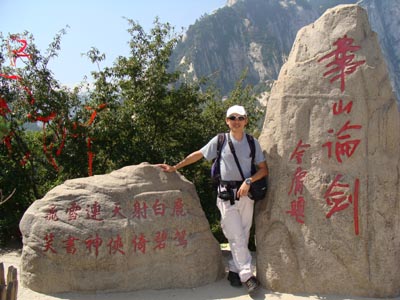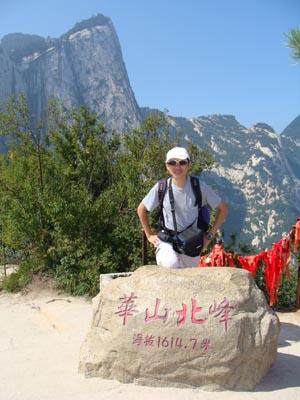 This is North Peak (北峰), here we go.
Location 4:
This is 擦耳崖 (Ear Touching Cliff). This is not really a cliff. It is a big rocky carridor with big rock leaning toward you on the right (assuming you are walking upwards).
Location 5: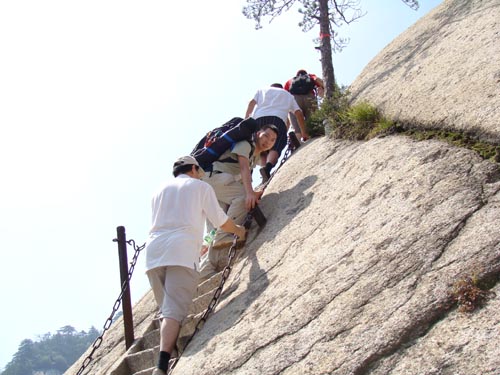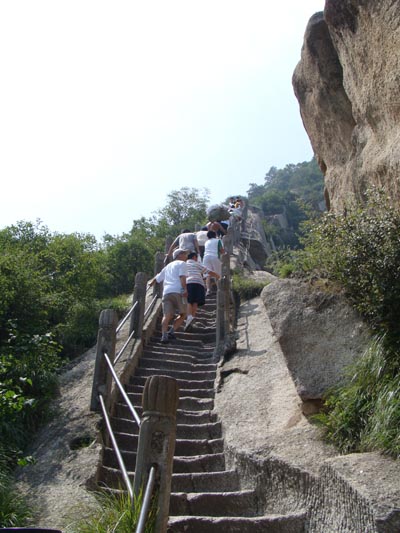 This is 蒼龍嶺 (Cang Dragon Ridge). It is a very long and steep flight of stairs built on a mountian ridge.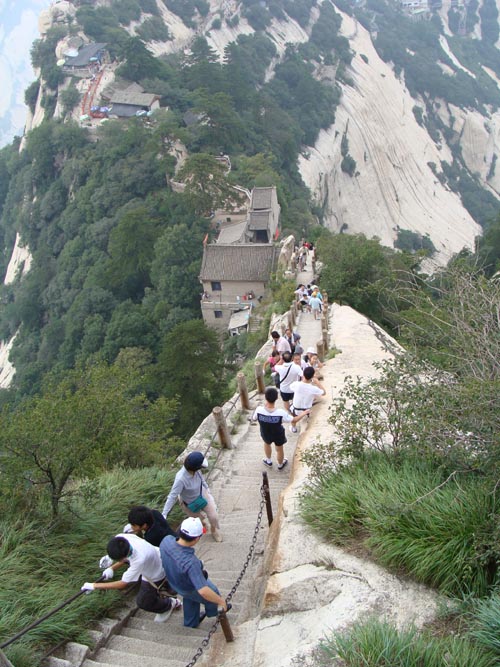 Location 6:
There is a gate called the Gate of Golden Lock (金鎖?). There really a giant "golden" lock behind the gate.
Location 7:
Now we reached the South Heavenly Gate (南天門). Behind it is the highlight of this trip, 長空棧道(Narrow Path in the Sky).
Location 8:
長空棧道(Narrow Path in the Sky) is actually a extremely narrow path built by a vertical cliff which is several hundred feet above a forrest. The path is partly carved on rocks and partly supported by planks. The path is of 1 to 2 feet wide. The whole thing comprises of two portions. The first portion is totally vertical. You have scale down by an iron ladder built inside the seams of big rocks. The second portion is horizontal which is be around 50~70 meter long. In the past (e.g. year 2000), there was no safty measure for this path, there was only a chain rail, someone fell down every year. It is all at your own risk.

Now , you have pay RMB30 to visit this 長空棧道(Narrow Path in the Sky). That RMB30 is for renting your life line i.e. a karabiner and chest harness. Wire rail was installed along the path for the karabiner.
| | |
| --- | --- |
| After the nerve cracking 長空棧道, you will reach the Repent Cliff (思過崖). This is the dead end, you have to return by the very 長空棧道 again! | |
Appendix: Chinese porter in Huashan